Telephone
+44(0)1483 598420

Facsimile
+44(0)1483 566761
Postal address
for the Spike - Warren Road, Guildford, SURREY GU1 3JH
for Charlotteville Jubilee Trust - 12 Addison Road, Guildford, SURREY GU1 3QP
The Spike Heritage Centre is open for tours every Tuesday and Saturday from 10:00 until 15:30.
For group tours at other times, please contact us on 01483 598420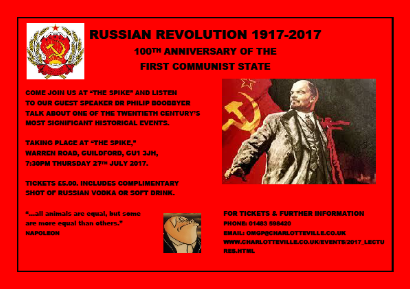 THE RUSSIAN REVOLUTION CENTENARY
As a distraction from the many commemorations of the 1st World War we thought that an evening learning about another important event might be of interest.
All too easily the Russian Revolution is forgotten in the West yet, the fact that it happened, arguably has a more significant effect on our lives today than the Great War.


Click here for more information.
Arriving on tables near you soon!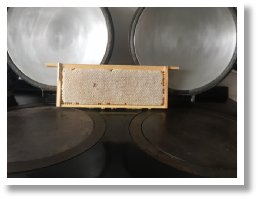 Pictured on the right is the first frame of honey produced by one of our two hives at the Spike.
We have removed the first seven frames of honey from the hive and the bees are cracking on making more! The frame shown weighs 1.4Kg so this one alone should be good for at least two 1lb (454g) jars of honey.
We will be 'spinning' the honey out in late August or early September. If you would like to come and watch and/or buy a jar, get in touch ASAP.